Rural life in 1850. On the ground reporting in Victorian England—with personal accounts from the labouring poor.
Available in Hardback, Paperback & Kindle editions
(click on the cover for further details and previews)
The investigation into the working and living conditions of the rural poor, part of The Morning Chronicle's nationwide "Labour and the Poor" series, was a huge undertaking which ran to 50 separate articles or "letters" and a publication period of almost two years.
Alexander Mackay and Shirley Brooks both contributed letters to the series.
A large proportion of the population in the mid-nineteenth century worked on the land and for those providing food for the nation life was hard. It was often back-breaking work, long hours, low pay, and terrible living conditions.
The Rural District volumes will guide you across the various landscapes and fishing grounds, hearing from the rural people themselves about their lives. The investigation covered a huge portion of the country and provides a superb account of rural life at that time.
You can click on the book covers for specific details of each volume including the Table of Contents and preview each volume, which includes sample chapters and indexes for print editions and a link to Amazon for the Kindle preview.
Due to the scale of the investigation we have split the Rural Districts into two separate volumes:⁠—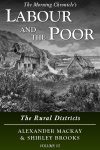 Volume VI, The Rural Districts
Author: Alexander Mackay & Shirley Brooks
Preview
Volume VI of the Labour and the Poor series sees Alexander Mackay and Shirley Brooks entering the rural districts as part of The Morning Chronicle's investigations. The regions traversed include the South Eastern, South Western and Eastern counties of England. Read More »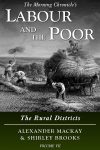 Volume VII, The Rural Districts
Author: Alexander Mackay & Shirley Brooks
Preview
As Alexander Mackay and Shirley Brooks continue their investigations on behalf of The Morning Chronicle, Labour and the Poor Volume VII takes us into the Northern and Midland counties and further explores the South Eastern and Eastern counties of England. Read More »