Real life London in 1849-50. A journey through the back streets and into the lives of the people in early Victorian London.
Henry Mayhew, the pioneering social investigative journalist, takes us around the capital and reveals a hidden life—the real Dickens' London. He ventures into places where only the very poorest are forced to tread, interviews the people encountered and publishes their words.
Volumes 1 to 4 of the 10-volume series.
Available in Hardback, Paperback & Kindle editions
(click on the cover for further details and previews)
Henry Mayhew was the "Special Correspondent" for The Morning Chronicle tasked with the investigation into the Metropolitan Districts. It was his wonderfully written article "A Visit to the Cholera Districts of Bermondsey" that was the reputed catalyst for the series.
The letters give a fascinating insight into the poor people of London, in their own words. Their often terrible living and working conditions, surrounded by the incredible wealth that was Victorian London, their desperation and their daily struggles for survival, really come to life.
We have also included the Letters to the Editor which flooded in in response to the revelations in the letters. These make fascinating reading.
You can click on the book covers for specific details of each volume including the Table of Contents and preview each volume, which includes sample chapters and indexes for print editions and a link to Amazon for the Kindle preview.
Due to the immense scale of the investigation we have split the Metropolitan District letters into four separate volumes:⁠—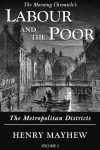 Volume I, The Metropolitan Districts
Author: Henry Mayhew
Preview
Beginning with Henry Mayhew's "A Visit to the Cholera Districts of Bermondsey", the reputed catalyst for the series, Volume I of the Labour and the Poor series runs to 18 letters. Letters to the Editor begin to appear, showing the reaction from the public starting to build. Read More »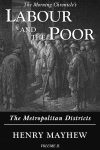 Volume II, The Metropolitan Districts
Author: Henry Mayhew
Preview
Volume II of the Labour and the Poor series runs to 18 letters. Henry Mayhew's investigations lead to many Letters to the Editor pouring in at this stage of the series. He investigates dock labourers, houses of refuge and asylums for the poor, vagrants, beggars, and boot and shoe makers. Read More »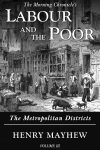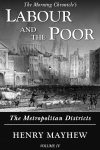 Volume IV, The Metropolitan Districts
Author: Henry Mayhew
Preview
The concluding Metropolitan District volume contains 26 letters and sees Henry Mayhew investigating the various workers in wood along with the transit of the metropolis, dressmakers, tanners and finally the London markets. The investigation continues on around the country. Read More »